Dr. Jens Bengen was one of the first doctors to be critical of the corona hype. He got to the bottom of things and explained them to a large public through his "Sword of Truth" channel. On May 26th, Bengen saw no way out for himself, perhaps also for the bigger picture - he chose suicide and leaves a large, dark hole. The people in the resistance are shocked, horrified and warn those responsible to finally realize what they are doing with their actions.
Dr. Bengen came to the conclusion early on that it was a fake pandemic. The official stories didn't fit, the hospitals were empty. He was of the well-established view that face masks do not protect against a virus that is no more dangerous than the annual flu. Bengen tried tirelessly to educate the public and produced numerous videos, including on the YouTube channel "Sword of Truth".
On May 28th, his brother announced that Jens Bengen had committed suicide.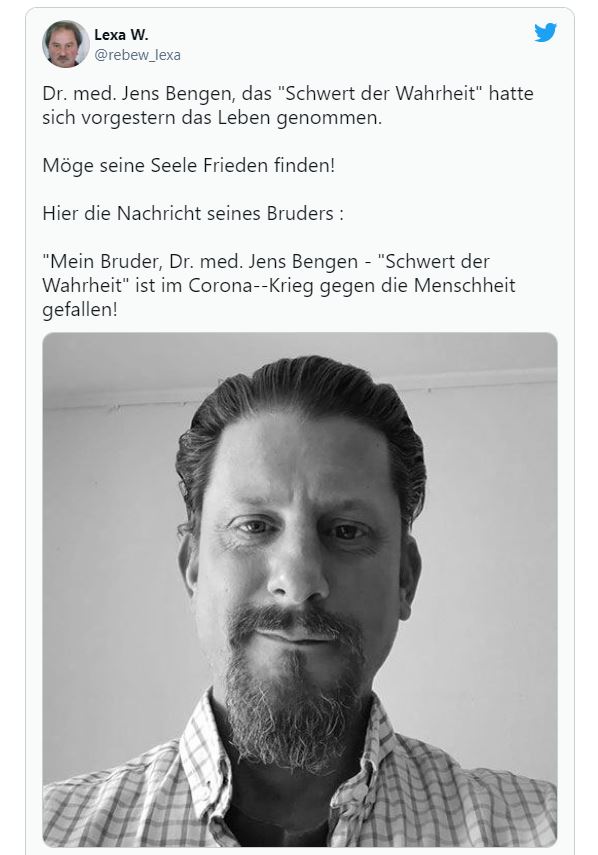 In the following video from May 2020, Bengen explained how left-wing extremists acted against him and other rally participants. One comment said: "Dear Dr. Bengen, I admire your strong nerves. Hanover is my hometown, but I've been away for a long time and I'm happy about it. "
Co-ordinated media incitement to be found complicit
Numerous mainstream media worked their way off the resilient doctor and contributed their part through their constant hatred and incitement to his ultimate despair. It cannot be assumed that even one of the journalists who are loyal to the system is ashamed of his actions.
It is to be hoped that at least some of the important educational work of Dr. Bengen is preserved - in times of all-encompassing censorship this is very difficult, however. One may have to think about how to preserve and preserve contemporary documents of the resistance in a suitable manner, regardless of the access of the state apparatus, which is mostly contrary to human rights and fundamental rights, as well as the compliant "social media".
Dr. Bodo Schiffmann speaks a moving obituary for Dr. Bengen:
Here someone has saved a video from Bengen, where the sympathetic and calm doctor reminds the police officers of their responsibility to protect people.
In this video, Dr. Bengen that mass vaccination is imminent. His theses and theories are presented in a well-founded manner and he seriously admits that he could be wrong. It is only important to him that controversial topics can also be discussed. The video is absolutely worth seeing!

Bengen also appeared as a speaker, as evidenced by this homepage, the content of which we at least as a screenshot want to receive.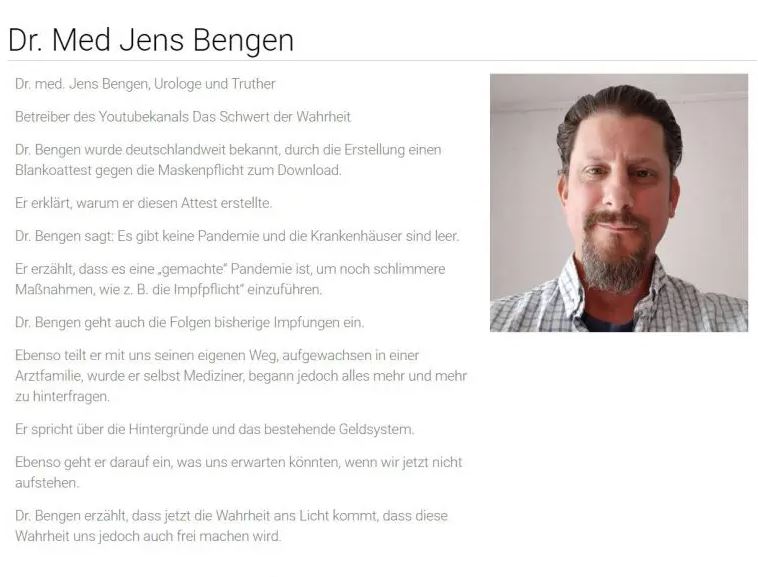 Important note on our own behalf
---
Strengthening independent journalism together!
Independent journalism is a great asset. That is why the PRESSETEAM AUSTRIA moves away from state influence and political interests. We decide what to report on and what content to bring. This is the only way we can give a voice to people and topics that otherwise would not be taken into account. We want to remain independent, open and critical - and for that we need your help! Your support strengthens our editorial independence!
Once or continuously from 2 euros. Every contribution counts!

Account transfer: Press Team Austria
Usage: Donation
IBAN: AT21 3947 9000 0002 6039
BIC: RZKTAT2K479

Fancy vases and stools
online
order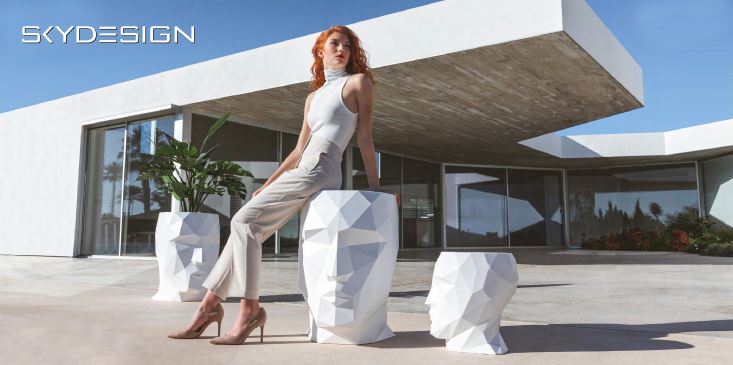 Skydesign vases and stools outdoor design
Advertising